~Apply for our site Award~
Criteria::::
***Your site should not contain or link directly to sites that contain pornography or illegal activities.***
***Must be easy to navigate.***
***No under construction pages please***
***If music or sound is anywhere on your site, there should be a method of turning it off***
***All images must work and reside on your own server. No stealing of bandwidth.***
***Your site should not crash our computers.***
***Your site should be pleasant to view, and interesting.***
---
If you win one of our Awards::::
*** Your site will normally be evaluated with in 3 days.***
*** We ask of you to please post the Award in your site and link it back to us.***
*** Our Awards should NOT be altered in anyway.***
*** You will be included in our Winners List after you have acknowledged the Award***
---
~Thank you and good luck from all at Shimanstar's~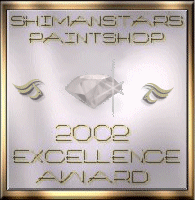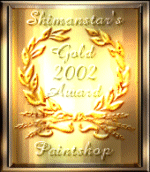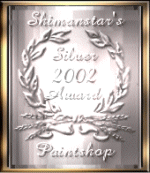 ::::APPLICATION FORM::::
::::Please vote for us::::
On the link below...We really appreciate it.
VPPORTAL TOP 100 HIT LIST
::::Please Sign our Guestbook::::